You can enjoy the spa-like hair removal process at home, making your skin silkier smooth, and clear.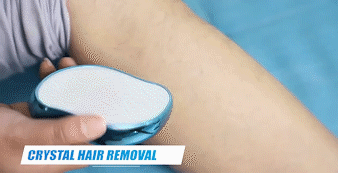 ✿ Expectation: The IPL hair removal mechanism treats the body hair permanently and prevents them from growing back by breaking its regrowth cycle. With regular use, the body hair will be reduced by 95% permanently.
✿ Fast & Effective Hair Removal: According to tests and studies for a long time, 75% of hair grows slowly and reduces after 4 weeks of laser hair removal. The hair became thin after 6 weeks of use.
Regular use can help to prevent unwanted hair from reaching the skin surface. However, the timeliness and results may be different due to skin conditions, so please give it more patience.

✿ Painless Shaving: no pain, just like a spa. The advanced system of the flawless hair remover makes it very easy to treat the lower leg in 4min, the underarm in 2 min, and 1 min for Bikini hair.
✿ Exfoliation & No Damage To The Skin: the use of black technology hair removal principle, no harm, and no skin irritation, in the removal of hair at the same time, can also exfoliate and refine the pores.

✿ Easy To Clean: machine full body waterproof design, safe to use, in the used water directly after the cleaning, to prevent the growth of bacteria. Small and portable, easy to carry.
✿ For All Skin Types: unisex, suitable for all skin types, fights imperfections and removes dead skin cells for clear, bright skin, saves money.
Apply directly on the skin in circles, no need to wet the skin, after the hair removal work is completed, you can put a little body lotion to make the body shinier
Material: ABS+glass
Size: 11*7*2.5cm/4.29*2.73*0.975in
Weight: 66g
Note: Manual measurement, please allow slight errors on size. The color may exist a slight difference due to different screen displays.